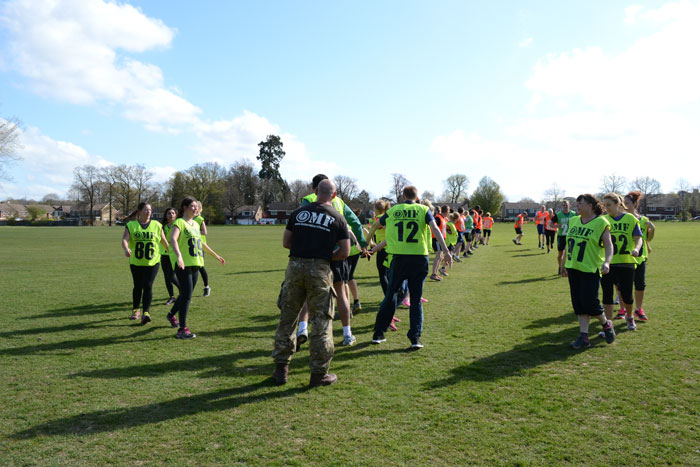 No tech – no gear – just reps.
In Winter of 2017, I joined OMF on a cold dark night in Horsham Park, along with other trainees getting their Weekly one hour workout.
Training outdoors completing circuits and working as teams in the elements is a great way to maintain and build fitness, strength and endurance. It also promotes natural skills of sure footedness and night vision, which can lie dormant in our modern world of comfort. Might become unexpectedly handy, one day!
Through training at OMF, I discovered I could run quite well and took further running advice from an accomplished fellow trainee. I now often post 5k ParkRun times of around 22 minutes, that's ok as I approach my 53rd Birthday.
What new things might you learn about yourself at OMF?
Gary Holder
"My only regret about OMF is not joining up sooner, they make getting fit so much fun. So what are you waiting for? Get into shape, have fun, meet like minded people and make some amazing new friends"
Maggie Burrows
"OMF has changed my life in so many ways. To try and cut a long story short, I broke my back in 2012 and I had a slow recovery process. The Doctors said the best thing I can do is exercise in order to keep my muscle strong. I was bored at the gym as no one talked, there was way too many mirrors and no fresh air. Drinking in the Tavern one day I noticed a group of people exercising outside, I spoke to Instructor Liam and the very next morning I was at a class. The Instructors & everyone else at the class instantly made me feel at ease. They also gave me a healthy balance of pushing me but also understanding my limitations. Not only has it kept me fit, I have re-aquanited with old friends, made new friends, gained a job, cycled from Boston to New York, completed 3 mud runs, ran the Great South Run, ran the Worthing Half and i'm currently in training for the Brighton Marathon. Life's for living guys and OMF has certainly helped me do that"
Anna C / Admin Anna
I have been attending 2-3 classes a week for about 3 months now. I am now able to pass my work based fitness tests with ease when I was struggling before. Great atmosphere, great instructors and a great workout. Thanks OMF
Matt Breeson
If you're like me and need a bit of motivation and camaraderie to keep you on track for your fitness goals, OMF is perfect. Down to Instructor Liam and his team's experience, they managed to guide me from being an unfit, overweight bloke to being in the best shape of my life. Would highly recommend to people of all fitness levels to take you up to the next step.
Wills Knight
A realisation that i was very unfit, putting on weight and hitting 40, made me decide to give OMF a go. 3 months later its the fittest i've ever been, the sessions are brilliant as are the instructors. I'd thoroughly recommend it to anyone who wants to get exercising and in shape
Mark Lyons
Always hard work, but that's why you are there! Instructors and fellow OMFers are great company and no session is the same, really pleased I signed myself and my other half up for this.
Clare Wooding
So much more fun than going to the gym, very challenging but always a great laugh
Amy Pearce